Neck Traction - Cervical Traction > Cervical Neck Traction Device For Head, Shoulder, Neck Pain By JDOHS

Cervical Neck Traction Device For Head, Shoulder, Neck Pain By JDOHS



| | |
| --- | --- |
| Orig. Price: | $24.95 |
| Sale Price: | $19.95 |
| Availability: | in stock |
| Prod. Code: | JDS AIR+ B |
Cervical Traction Neck Pillow For Head, Shoulder, Neck Pain
---
Get quick relief from cervical neck pain with our Home Cervical Neck Traction Device! This Easily Adjustable Cervical Neck Massager or Neck Pillow with its effortless pumping and adjustable incline and neck cushions is truly a breakthrough in home traction equipment.
---
What Does Cervical Neck Traction Do?
This Cervical Neck unit can stretch and relax the neck and shoulder muscles while improving the spinal posture. The stretching can decompress the spinal disc, which may minimize bulging and ease the constriction of nerves as well as the blood circulation. This Cervical Neck Support pillow can also take pressure off the painful and stiff joints to relieve pain and improve mobility.
---
The Self-Adjusting Cervical Neck stretcher introduces a unique structure design based on Cervical Air Traction and Neck Elongating Exercise. Combine with unique materials and development, they allow Deep Neck Shoulder, Muscle Relaxation & Comfort, delivers Relief of Tension, Muscles Spasms, Stress, and Pressure in the Neck, Shoulders, head, and Cervical Vertebral area. You can feel the results in just a few short minutes. The Main function is based on Cervical Neck Air Traction Exercise. It can be an effective aid to the sufferer from Neck Cervical Vertebral stress, tension, pressure, after effects of cervical neck surgery and discomforts. Improving Blood Supply to Neck Muscles, Tendons, and Ligaments, Promote a total relaxation by the release of pressure, stiffness, muscles spasms, and stress in the neck, head, and shoulders area, this Cervical Neck Pillow is true of many uses.
---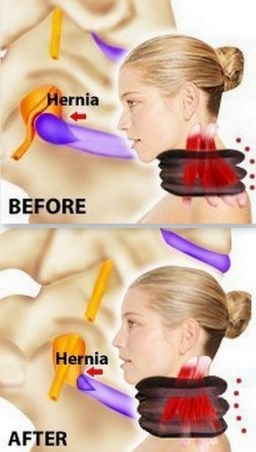 Benefits of Cervical Neck Traction -
FAST PAIN RELIEF ― Use this Neck cervical traction support and pain reliever 2-3 time daily for 10-20 days helps to get longtime relief from stress and pressure of neck pain, shoulder pain, tension, muscles spasms, head and cervical vertebral area, numbness in the arms caused by a pinched nerve. You can feel the results in just a few short minutes.
EASY TO USE ― Place the Neck traction pillow around the neck, adjust the circle to the appropriate size, fix the nylon straps in the front & it's ready to go. It is safe to use, easy to carry around and can be used at home or work.
USE IN ANY POSITION ― With the device on the neck, people can take any body position such as Lying, sitting, and standing. You can even wear it while doing daily activities like working or exercising.
PROPER NECK POSTURE ― Our Neck traction device can help prevent forward-and-down head position when using laptop or cell phone, and at the same time, it stretches your stiff muscles around the neck and shoulders. Results perfect neck posture & pain relief!
COMFORTABLE DESIGN ― It has Inner Latex Chamber and Soft Textile Covering material.
FIT SIZE ― Will fit a 14 to 17-inch neck size.
---
How to Use Cervical Neck Traction -
Place The Neck Traction Unit around the neck, adjust the circle to appropriate size and fix the nylon strap in the front.

Fasten the air-release screw before pumping.

Adjust the clutching condition in the lower part of the circle, and traction angle as comfort dictates or as prescribed by your doctor.

Hand pump until your neck is resting comfortably. After pumping, place the ball into the upper pipe to prevent the air from leaking out.

The machine may be used 20-30 minutes for medium and minor traction, and 1-3 minutes for major traction.

Begin gently with medium and minor traction, then moving on to major traction if comfortable.

Treatment should occur 2-3 times daily for at least 10-20 days.

Only use as prescribed by your doctor if applying to serious injury.

After treatment, push back the ball first, expelling air as gradually as possible by slowly turning the screws.

Do not squeeze the device.
Does cervical neck traction work? Of Course, it does! You will feel the difference.
---
Buy this #1 Best Cervical Linear Traction Neck Pillow With No Hesitation, As We Guarantee - You will love it!
---