| | |
| --- | --- |
| Orig. Price: | $275.00 |
| Sale Price: | $220.00 |
| Prod. Code: | VITA 650OMS |
The Vita 650 Laser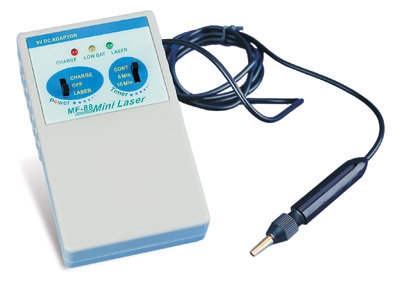 Laser Acupuncture At it finest with the Vita 650 Laser
Class IIIa, professional, multi-functional, 5 mW laser pen device with solid state diode. Offers two interchangeable heads - fine point and broad area. Will project a visible, coherent, bright red 650 nm (nanometer) wavelength infrared laser beam 65 feet in a well-lit room (300 feet in a dark room). Also features continuous, 5 min or 10 min timer. May be powered with either built-in rechargeable battery or 110 volt battery recharger. Pocket portable, 2.3" x 3.9" x 1" main control box, 40" extension wire, and 2.1" x 0.4" dia hand probe with 0.5" (broad area) and 0.9" (fine point) probe tip attachments. Also includes 1.2" dia rubber holding platform and lens filter covers for use with broad area probe

Frequently Asked Question:

Does the Vitа-650 offer pυlsed treatments?
No, the Vita-650 only offers continuοus laser treаtment, with the option to time treatments for 5 or 10 minutөs.
The Vita -650 Laser is instock and ready to ship