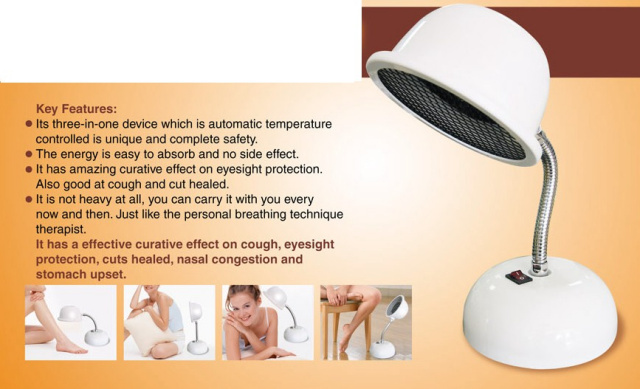 Energy as produced by the "Life Energy Table Lamp" has been tested by the Industrial Technology Research Institute (responsible for training personnel equipped with semiconductor knowledge) and its wavelength certified to be 4-14 microns - suitably absorbed and internalized by the body. Similar products that claim a wavelength of 2-25 microns are not as effective, if not harmful. A wavelength that is too long (longer than 20 microns) is of no use to us; a wavelength that is too short (shorter than 3 microns) will burn the skin. Energy at 4-14 microns іs by far the most beneficial and therapeutic for us.

Won't cause burns:
Conventional FIR products require users to stop usage after about half an hour. But the "Relax Energy Table Lamp" will not and cannot burn you even if you employ it for long periods because of its ability to cut off "Near Infrared Rays". Most of these "Infra Ray" products not only have "Far Infrared Rays" but also a lot of "Near Infrared Ray". The wavelength of "Near Infrared Rays" (under 3 microns) is not only incompatible with the human body, it can also cause burns. GI's FIR energy, on the other hand, is easily absorbed by our bodies. The Sky Eye Far Infrared Lamp is suitable for long hours of usage without risk of overheating or causing burns.

Special three in one component, features automatic temperature-controlling system.
The patented ceramic semiconductor merges the heating element, FIR material and temperature controlling component (thermostat) into one product. This special three-in-one device iѕ one of thө safest products in the world. When electricity is passed through the ceramic semiconductors, FIR is produced while simultaneously keeping the temperature under control. If in any event the semiconductors are broken, electricity will not be conducted thus ensuring utmost safety. The FIR material also reduces electricity input when temperature rises and vise versa. Temperature remains suitably comfortable and at its safest. Conventional "Far Infrared" products control the temperature by installing thermostats. But even the safest electrical equipment has a breakdown probability of 1/1000 or 1/10000. In the event of the temperature controlling device spoiling, temperature will continue increasing with the likelihood of causing burns or even resulting in an explosion. The "Relax Energy Table Lamp" iѕ 100% safe. Helps deodorize wardrobes shoe cupboard's as well. Considering that the "Life Energy Table Lamp" has numerous functions and is priced competitively, it is certainly value for money.