| | |
| --- | --- |
| Orig. Price: | $639.00 |
| Sale Price: | $289.00 |
| Availability: | This product is back-ordered; Projected Restock time is the end of July. Please come back or continue shopping. |
| Prod. Code: | TSXLG-Thera Sauna |
The Portable Infrared Sauna


By


There Sauna Healthy Wave

Featuring a Extra Far Infrared Heater
Comparable to Evergain, I-spa, Arizona, and LUX
Size is42.8" tall x 32.6" wide x 32.6 deep
There Sauna Healthy Wave
This Unique High Quality Portable Infrared Sauna is affordable and can be used in privacy of your home or apartment or any living environment without large spaces & special wiring.
Our Portable Infrared Sauna uses new the new hi-tech super conductive ultra thin heating elements. The high heat efficiency helps you perspire, which promotes blood circulation, and keeps the body healthy. 15 minutes spent relaxing in our portable sauna is the equilivent of 30 minutes of jogging. Our sauna is designed so that your head and hands can extend out for reading, watching TV, or listening to music.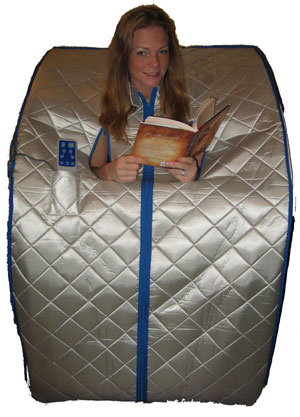 The Advantages of A Portable Infrared Sauna By Thera Sauna
A conventional sauna heats the air in the chamber to temperatures in excess of 174 degrees, which in turn heats our body. A Far Infrared sauna works differently. Neither oxygen molecules nor nitrogen molecules in the air can block the FIR wave; therefore, the Thera Sauna Portable Infrared Sauna far infrared wave length penetrates directly into our body up to three inches. It makes us feel quite warm and we perspire profusely, but our skin is not hurt by the hot air. Some heavy metals accumulate under our skin and the Thera Sauna Portable Far Infrared Sauna with the extra booster heater is very good for sweating out heavy metal deposits under our skin.


All Walls Are Covered With High-Tech Ultra Thin Super Conductive Heating Elements Coated With Heat Activated Far Infrared Radiant Materials.
Fir Material Energy Emission . . . . 97%
Time to Heat Up . . . . 5 minutes.
Automatic Preset Timer Control . . . . 5, 10, 15, 20, 25, 30 min.
Temperature Level Control with 5 degree interval up to maximum 135. With Booster Heater 155-158 Degrees
Low Operating Cost . . . . $0.05 for 30 minutes use
Super Conductive Heating of 1050 watts Plus FIR Radiation Equivalent to 1780 watts Thermal Energy.
Depending On Individuals, the Volume Of perspiration Can Be 5cc With 10 Minutes Use.
Only One Minute To Set Up Or To Take Down
Light Weight . . . . 10.1 Pounds.
Power Cord . . . . . 8.2 Feet.
Portable, can Be Used Anywhere !
Our portable far infrared sauna provides the same far infrared (FIR) heat therapy used by Olympic athletes to treat injuries and is used in hospitals to keep infants warm. This affordable, high quality portable sauna shares all the benefits of expensive steam baths, with none of the drawbacks such as unbearable heat or high power bills.

The (FIR) portable sauna heater box applies hi-tech super conductive and ultra thin heating elements to generate far infrared energy. A high rate of heat efficiency increases perspiration while promoting circulation to keep at your body at its healthiest. Spending only 15 minutes in the infrared sauna corresponds to 30 minutes of jogging in calories burned - its so easy, you can use it daily! With its portable, efficient design, your head and hands are left free for reading, watching TV, or listening to music while enjoying the Thera Sauna at your leisure, it's your ideal portable home sauna.
A Portable Infrared Sauna treatment before a massage also helps prepare a client by creating an overall relaxing effect. It relaxes the muscle tissue so the therapist can do a more thorough and effective massage.
For that sought after healthy glow, the Portable Infrared Saunas heat therapy allows increased blood circulation to carry great amounts of nutrients to the skin, thus promoting healthy skin tone and texture. A FIR Sauna also provides a mild cleansing of the skin.
FIR heat has a positive effect on the immune system. The function of the immune system is increased naturally, while virus and bacterial growth is slowed, weakening its hold. This helps the body ward off invading organisms.

The Thera-Sauna Portable Infrared Sauna is Easy and Fast to Set Up and Put Away





The Complete Thera-Sauna Package Includes: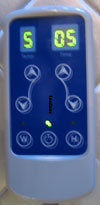 FIR (Far Infrared) Portable Sauna Tent
Three FIR Heating Panels (two side walls, and back wall)
Zipper for Neck
Zippers for Arms
Zipper for Sauna Entrance
Remote Hand Held Timer, On/Off and Temperature Control
Special Heater -controlled by the hand held controller
Foam Floor cushion
Folding Chair


BENEFITS:

• Help improve circulation
• Relieve stress and tension
• Achieve a cardiovascular workout without suffering muscular and joint stress
• Ease muscle pain, joints and arthritis (rheumatoid and osteo) and other stiffness (without toxic side-effects) thru far infrared
• Burn hundreds of calories without hours on the exercise bike or treadmill
• Relieve back pain, muscle spasms, headaches and sinus congestion
• Perspire at an accelerated rate for quicker expulsion of stored toxins
• Burn cellulite away by dry heat therapy
• Enjoy cleansing facials for clearer, smoother, more beautiful skin
• Accelerate the body's natural healing processes and reduce fatigue
• Instant relief from the stressful activities of your day
• Increase flexibility
• Rehabilitate sore, pulled, and fatigued muscles
• Clean clogged pores and help to reduce acne, eczema, psoriasis
• Stimulate healing of lesions and minor cuts
• Improve fitness by increasing heart rate and decreasing blood pressure
• Purge bodily toxins and mineral waste
• Cultivate cellular vitality and immune system functions
• Breathe easy at soothing, comfortable temperatures of the FIR far infrared spectrum
• Cheap to operate - 30 minutes costs only $0.03 USD
• The latest technology in portable, heat activated (FIR) sauna material 1030 watt, equivalent to 1780 watts thermal energy!.
• Foldaway sauna, lightweight and portable to bring anywhere
• Highly durable
• Easy to clean portable sauna - simply wipe down with towel
• Built-in protective thermostat and timer for 10, 20 and 30 minutes
• Space-efficient & easy setup - only a minute to unfold or to disassemble portable sauna
• Outer frame of the sauna adopts a heat-proof nylon cloth cover, lined by an insulating layer of thermos cotton to lock in heat
• Side walls, the back wall and foot pad are covered with 0.1 mm ultra thin four super conductive heating element coated with heat-activated FIR far infrared radiant materials
• Volume of perspiration up to 5cc within 10 minutes of use
FEATURES:
1) It uses Mica as a FIR heat emission medium which emits 90% + FIR heat
2) Micron range is 6-15 and 80% is in the 8-12 micron range
3) It has 5 temperature settings allowing you to choose your comfort level
4) It has easily replaceable heaters and control panels. No need to send the entire unit in for repair, thus saving you money and time.
5) It has a timer so you can choose how long you wish to sauna.
6) It has a 1 year warranty

Easy and Fast to Set Up and Put Away
Special large size 42.8" tall x 32.6" wide x 32.6 deep