| | |
| --- | --- |
| Orig. Price: | $149.95 |
| Sale Price: | $132.50 |
| Availability: | in stock |
| Prod. Code: | EStim-III-62614 |





E Stim III Portable Microcurrent TENS Machine Electro-Acupuncture Unit with Two Channels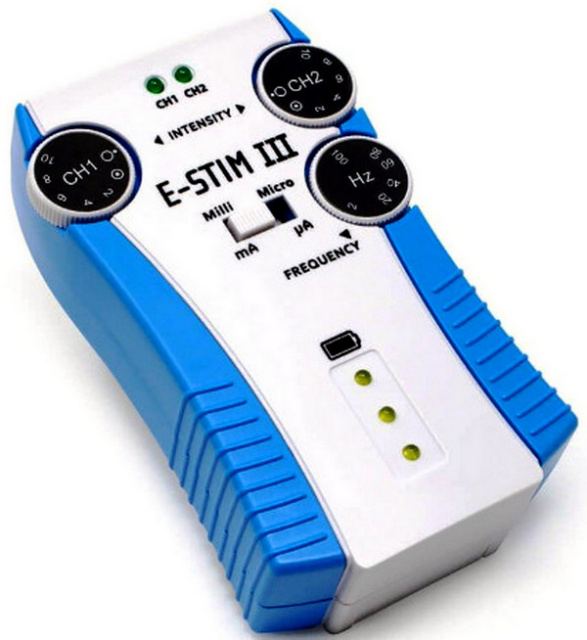 The E Stim III portable TENS - electro acupuncture unit can be used with needles or pads.
Key Features:
· Fast & Easy
Effective Pain Relief
· Dual Channel
· Continuous Frequency
· Professional or At-home Use
· Battery & Instructions Included
The E Stim III is a simple and effective portable acupuncture device for professional or at-home use. The micro current electro-acupuncture therapy offered by the E Stim II awakens the body's natural self-healing abilities to provide gentle pain relief.
This device offers the most economical way to receive the benefits of professional electronic acupuncture treatments. The E Stim II features include: dual channel and continuous frequency of 1 to 100 Hz with Milli-amp (normal current) and Micro-amp (micro current) settings.
The new-and-improved E-Stim III® adds customer-requested enhancements Such as the ones listed below
Improved precision for better accuracy in treatment settings
A non-slip rubber casing to reduce movement when the unit is set down.
A helpful battery meter so you know when you are getting low on power.
When used in combination with traditional acupuncture needles placed at appropriate stimulation points, this little machine provides users with a consistent form of pain management based on 5000 years of Chinese medical practices.
The E Stim II portable acupuncture device is fantastic for pain relief acupuncture.
How does it work?
The two alligator clips can be attached to inserted acupuncture needles or inexpensive pads placed on the surface of the skin. The low frequency electro-pulse stimulates the body's natural healing powers and assists in various kinds of pain relief. As well as the many other benefits of acupuncture.
What is included with this purchase?
The complete E Stim II portable electro acupuncture unit plus 2 sets of alligator clip wires, and complete instructions are all included with your purchase.