| | |
| --- | --- |
| Orig. Price: | $749.00 |
| Sale Price: | $699.00 |
| Availability: | in stock |
| Prod. Code: | TTS-Pro |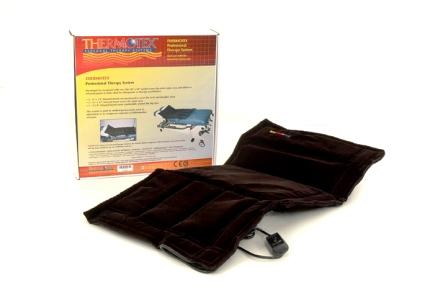 The Thermotex Professional Infrared Heating Pad has a total of six inserts and was developed for use on a typical treatment table.
Size: 38" x 18"
Two 3" x 13" Far IR infrared inserts are positioned for the neck and shoulder area.
One 11" x 13" Far IR infrared insert covers the spine area.
Three 3" x 8" Far IR infrared inserts curve comfortably around the hip area.
All systems except the TTS Gold and the Professional system come with covers featuring adjustable VelcroTM fasteners. The covers are machine washable. Face covers are 100% nylon and the back covers consists of a 50/50 nylon/cotton blend.
On the low setting after full heat up the peak micron range is 9.1376 microns** and on the high setting it's 9.1089 to 8.7778 microns based on the range of surface temperatures of 45 deg C to 57 deg C. The internal elements are rigid and should never be bent.