| | |
| --- | --- |
| Orig. Price: | $249.50 |
| Sale Price: | $219.00 |
| Availability: | in stock |
| Prod. Code: | TTS Platinum |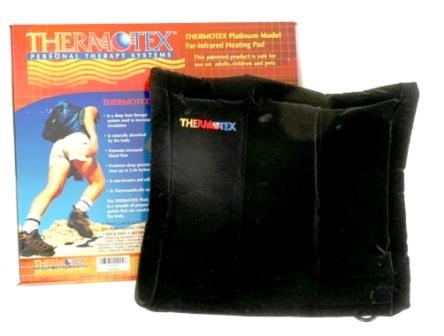 The ultimate in effectiveness and comfort, the Platinum infrared heat therapy system has been designed with three individual elements joined together as one unit. The adjustable straps enable you to fit the Platinum Infrared Heating Pad comfortably almost anywhere on the body, and its flexibility allows better isolation of the affected area. The overall size is 17" x 15". Each of the three pads is 3" x 8" Approx. Each pad is 12 watts for a total of 36 watts of power consumption.
The Platinum is our most versatile system.
All systems except the TTS Gold and the Professional system come with covers featuring adjustable VelcroTM fasteners. The covers are machine washable. Face covers are 100% nylon and the back covers consists of a 50/50 nylon/cotton blend.
On the low setting after full heat up the peak micron range is 9.1376 microns** and on the high setting it's 9.1089 to 8.7778 microns based on the range of surface temperatures of 113 deg Fahrenheit to135 deg Fahrenheit . The internal elements are rigid and should never be bent.

Use the TTS Platinum on your:
Knee
Elbow
Shoulder
Back
Leg
Neck
Anywhere it hurts!