| | |
| --- | --- |
| Orig. Price: | $2,199.00 |
| Sale Price: | $1,750.00 |
| Availability: | Out Of Stock |
| Prod. Code: | SEQ 100A |
Sequal Eclipse 2 Portable Oxygen Concentrator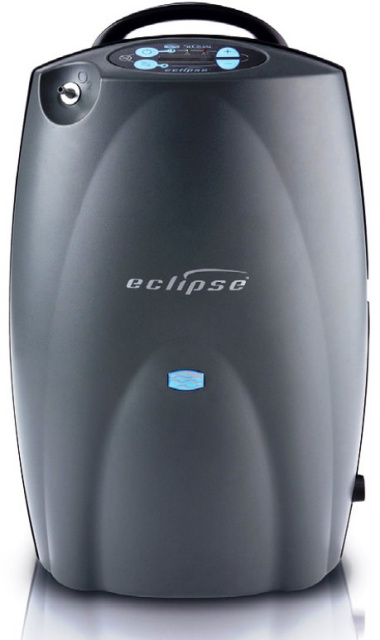 Sequal Eclipse 2 Portable Oxygen Concentrator w/ new battery, cart, AC/DC Chargers, & Travel Case
Many home oxygen users want the freedom to travel. Now you can enjoy life to the fuilest at a moments notice with the Eclipse 2 Portable oxygen concentrator the one machine for both stationary and ambulatory oxygen needs.The Sequal Eclipse line of oxygen concentrators fills the need for a home oxygen concentrator and a protable oxygen concentrator in one with both continuous flow and a generous pulse dosing options. this complete travel system offers everything you need for both continous home us or for a portable oxygen concentrator for those time when you are on the go. be it spending time with the children/grandchildren, an extended road trip, or a quick errand. This Eclipse portable oxygen system has you covered. Now you can have the best of both, with one system, The Complete Eclipse 2. The Personal Ambulatory Oxygen System.
The Eclipse 2 produces a total of 3,000ml/min of oxygen, far more than any other device of its type currently on the market. This means the user will have more oxygen available for use at rest, during sleep, at exercise, and at altitude. It's Superior Oxygen Delivery..
Features:
• Only battery-operated concentrator in the world that produces
3 LPM Continuous Flow
• AutoSAT™ Technology, a pulse delivery system, maintains a consistent
bolus size for every breath as your patients'
respiratory rate changes
• Consistently delivers a fixed bolus size up to
96ml at a setting of six
• May have the ability to be compatible with CPAP
and bi-level devices in Continuous Flow Mode
• The gold standard in oxygen delivery for
nocturnal needs is still continuous flow
• FAA approved for commercial airline travel and operates up to 13,123 feet in altitude for land
excursions.
• Simplifies the patients'continuum of
care with one device
• Replaces bulky equipment
• The sleek design is small, quiet
and can lower electric bills
• AC/DC and battery power allows
for longer excursion times even
extended overnight travel
• Improved quality of life – active
and healthier patients creates
stronger referrals
Eclipse 2.
The only all-in-one oxygen system
for 24/7 needs.
• AutoSAT™ Technology
• New easy-to-use LCD Display
• Approved for Rx of 0.5 – 3.0 LPM
continuous flow
• Adjustable sensitivity settings
• More user-friendly educational
materials for your patient
• Easier to access and read service
and maintenance information
• Includes a telescoping-handled
cart for easy mobility
• Automatically reverts to continuous flow
when no breath is detected
• Operates over a wide temperature range
• 2007 Wall Street Journal Technology Innovation Award Winner
Eclipse 2 Oxygen System Specifications*
Size: H x W x D 19.3 x 12.3 x 7.1 inches
49.0 x 31.2 x 18.0 cm
Weight:
With Power Cartridge 17.9 pounds (8.1 kg)
Without Power Cartridge 14.5 pounds (6.6 kg)
Continuous flow settings 0.5 to 3.0 LPM (0.5 liter increments)
Oxygen concentration 90% ± 3% @ sea level
Oxygen output pressure 5.0 psig (34.5 kPa) nominal
Sound level 48 dB(A) at 3.0 LPM continuous flow
40 dB(A) at 3.0 pulse flow setting
Power specifications:
AC Operation 100 - 240 VAC, 50 - 60 Hz
DC Operation 12 V nominal
Power Cartridge Quantity (2) 97.5 W-Hr battery packs each containing
7.92 grams of equivalent lithium content
Power Consumption 52 watts at 1.0 LPM continuous flow
145 watts at 3.0 LPM continuous flow
45 watts at 1.0 pulse flow setting
95 watts at 6.0 pulse flow setting
Nominal Power Cartridge 2.0 hours at 2.0 LPM continuous flow
operating time 1.3 hours at 3.0 LPM continuous flow
5.2 hours at 2.0 pulse flow setting, 12 bpm
3.5 hours at 6.0 pulse flow setting, 12 bpm
Power Cartridge 1.8 to 5.0 hrs, dependent upon the flow setting, to achieve
recharge time 80% capacity from a fully discharged Power Cartridge
Back up alarm power 9 Volt battery
Oxygen concentration Green Light = Normal Operation
indicator Yellow Light = Warning or Caution
Red Light Flashing = Abnormal Operation
Operating temperature 50° F to 104° F (10° C to 40° C) at
82.4° F (28° C) dew point, non-condensing
Pulse flow settings 1.0 to 6.0
Trigger sensitivity Adjustable between
-0.25 cm H2O to -0.7 cm H2O
IMPORTANT:
Professionally Refurbished to factory specifications and covered with a 90 day repair or replace warranty.
Start Enjoying Life Today with the Sequal Eclipse 2 Portable Oxygen Concentrator and Travel Kit.