| | |
| --- | --- |
| Orig. Price: | $2,187.50 |
| Sale Price: | $1,093.75 |
| Availability: | Out Of Stock |
| Prod. Code: | IOH200 |
Invacare Homefill Compressor, Your Home Oxygen Delivery System
The Invacare Homefill compressor wiith the ML4 Oxygen Cylinder
The Invacare Homefill Compressor is designed to work with the Invacare Homefill system. No longer do you need to visit or call your medical supply warehouse to keep your home oxygen delivery system in working order. Now, with the affordable and state of the art developments to personalized health, you have at your disposal the Invacare Homefill Compressor. Designed specifically for use with the Homefill Oxygen System, you simply connect your oxygen cylinders (Available Seperately) to the unit, follow the easy to read instructions, and prepare your own oxygen supply with the Homefill Oxygen Compressor.
Engineered for reliable use with durable construction, your Invacare Homefill Compressor is simple to use. Designed to run off 120V 2 amps power, it draws only 200 watts during use. With a safety rated 14-21 psi, you have no worries for 'slipped' fills, and the comfortable 0-3 lpm output ensures a quality and complete fill every time.
The system is engineered to fill three separate sizes; 4ml, 6ml, and 9ml, taking anywhere from only 55 minutes to two hours. It's small 20x15x16" dimensions means you can store it just about anywhere, and at only 33 pounds, is light enough for storage on any top shelf.
Engineered to complete the Invacare Homefill System, you Homefill Oxygen Compressor works seamlessly with your other Homefill components and is the only commercially available compressor to do so.
The Homefill Oxygen Compressor comes with a reliability warranty of 90 days against malfunction of parts as well as labor coverage for internal wear and control panel components. You deserve the surety of quality medical equipment, and your Invacare Homefill Compressor is the solution. Professionally refurbished to new condition protected with a 90 day repair or replace warranty.
The Invacare Homefill Compressor with optional oxygen cylinders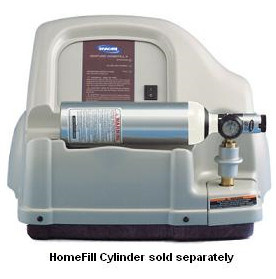 Features:
Connection and controls are designed for ease of operation

Fill cylinders while patient continues to receive oxygen from concentrator

Gives ambulatory patients greater freedom and independence

Small and lightweight

Eliminates the high service costs of frequent deliveries of cylinders and-or liquid oxygen

Oxygen cylinders are not included with the Invacare Homefill compressor
Cylinder Filling Times:
M2: 24 min

ML4: 55 min

ML6: 75 min

M6: 60 min

M9: 125 min

D: 3.5 hrs.
Oxygen Cylinders are sold seperately
Specifications
Electrical:
120 VAC +- 10% at 60 Hz
Power:
Consumption: 200 watts
Rated Current Input:
2.0 amps
Pressure:
14 - 21 psi
Oxygen:
Output from concentrator: 0 - 3 lpm (while filling cylinder)
Input: 0 - 2 lpm
Dimensions:
20.25"W x 15"H x 16"D
Product Weight:
33 lb
Important: The Invacare Homefill Compressor Model # IOH200 has been professionally refurbished to the original factory specifications and is covered with a 90 day repair or replace warranty. the Invacare Homefill compressor is designed to be used as part of the Invacare Homefill system which can be seen here Our Service Center is locatred in the USA.